AWC joins forces with Ant Group to strengthen the digital technology ecosystem for the lifestyle real estate industry
09 Sep 2023
Sep 2023
09
News 5 mins read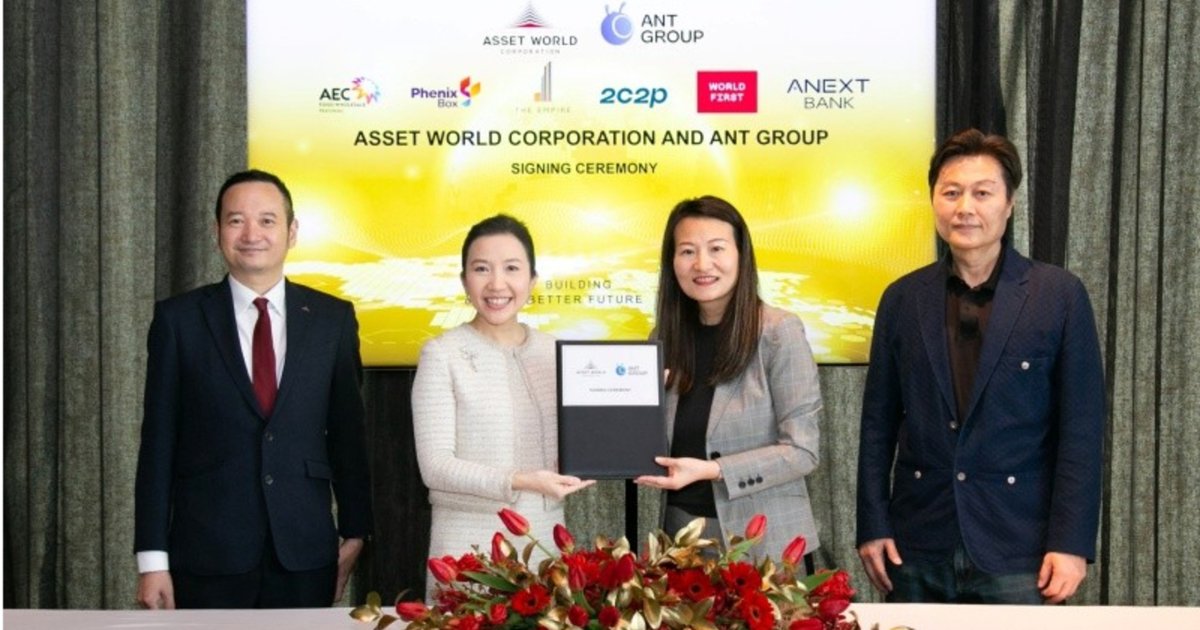 AWC pioneers the collaboration with Ant Group in the multiple dimensions across all business units to set a new benchmark in the digital technology ecosystem for the Thai lifestyle real estate industry.
Creating opportunities for cross-marketing between AWC and Ant Group, fostering unlimited growth in innovative and inclusive digital transformation.
Implementing an omnichannel approach in the lifestyle real estate industry, seamlessly integrating online and offline channels to improve global accessibility to digital payment gateway for both consumers and business operators.
9 August 2023, Bangkok, Thailand - Asset World Corp Public Company Limited or AWC, Thailand's leading integrated lifestyle real estate group, signs a Memorandum of Understanding (MoU) with Ant Group, a global digital technology provider, in a collaboration to strengthen the digital technology ecosystem across all AWC business units while setting a new benchmark in the digital payment solutions for Thailand's real estate industry. The collaboration with Ant Group will also enhance the convenience and seamless transaction experience for consumers and business operators globally and marks a significant milestone in the digital transformation of the industry to escalate the growth of Thailand's digital economy.

Mrs. Wallapa Traisorat, Chief Executive Officer and President, Asset World Corp Public Company Limited or AWC, states, "Through this collaboration, we are committed to enhance the digital technology in Thailand's lifestyle real estate industry and creating a sustainable business ecosystem for Wholesale, Retail, Commercial, and Hospitality segments. These solutions will enhance accessibility to digital payment services and create omnichannel experience for consumers and business operators worldwide, including Payment Solution to create inclusive digital financial solutions for AWC's business units, products, and services, including 'PhenixBox' – an OMNI CHANNEL platform which connects trading activities seamlessly from offline to online, and 'Pikul' – AWC's digital real estate lifestyle platform. The agreement will also allow AWC to expand its Wholesale business ecosystem with Cross-Border Payment Solution to create a one-stop payment solution for AWC's wholesale centers and 'PhenixBox' platform, allowing seamless payments between wholesale traders and global buyers in various currencies."

"AWC will develop The Empire as a comprehensive Digital Eco-System, while promoting it as an interactive lifestyle and workspace for technology companies, fostering the sustainable growth of technology businesses. Finally, the agreement will allow Cross-Marketing between AWC and Ant Group to stimulate long-term sustainable growth, sharing knowledge and expertise and introducing each other to potential business opportunities, collaboration partners, and an expanded customer base. With AWC's robust strengths in owning the largest portfolio in the lifestyle hospitality sector and an expansive office network that includes influential digital technology tenants, AWC is well-positioned to enhance collaboration and amplify the impact with Ant Group. This partnership will drive long-term growth in the digital technology ecosystem for the lifestyle real estate industry."

Clara Shi, Vice President of Ant Group and Head of WorldFirst said, "The partnership with AWC emphasizes the significance of effortless global payments for businesses, as it is the key to the success in today's interconnected world. By leveraging cutting-edge technology, Ant Group has created a comprehensive suite of cross-border payment solutions that removes barriers and streamlines cross-border transactions. We are committed to helping businesses confidently engage with partners, suppliers, and customers across borders through our omni-channel payment and financial services."

The partnership between AWC and Ant Group creates collaborations in various business groups, including:
For the Wholesale Business, through the collaboration with WorldFirst, a one-stop digital payments and financial services platform for SMEs engaged in global or cross-border trade under Ant Group, AWC aims to strengthen the Wholesale Business by offering value-added cross-border payment services, facilitating a seamless wholesale Online-to-Offline (O2O) journey, expanding buyer and seller networks, and establishing a unique position as a Business-to-Business (B2B) platform that provides easy access to supply chain finance services. By the end of 2023, AWC plans to enable cross-border payment solutions for 'PhenixBox', enhancing the buyer payment journey, off-platform trade, and cross-marketing.
Hospitality & Retail Businesses, through the collaboration with 2C2P, a full-suite payment platform provider and strategic partner of Ant Group, AWC aims to enhance efficient payment gateways, methods, and the user experience for local and international travelers and consumers.
For the Commercial Business, leveraging Ant Group's strength in digital technologies to co-establish a trusted connection between enterprises, people, and society, creating digital ecosystem at The Empire and enable a new type of digital community to connect the digital tenants in the property together.
For Digitalization Business, working with 2C2P to empower comprehensive payment gateway and e-wallet solutions, pre-paid card, and loyalty program features that are customized for 'Pikul', an upcoming AWC's digital real estate lifestyle platform.
"AWC continuously explores opportunities to enhance the seamless transaction experience for customers and business operators globally, while also strengthening the broader business with the digital technology provided by Ant Group. Collaborating with like-minded partners such as Ant Group, who share the same value in 'Building a Better Future', is central to this endeavor. Together, we will deliver sustainable value across our businesses by providing digital technology solutions that benefit all stakeholders and contribute to the growth of Thailand's digital economy." Wallapa concluded.